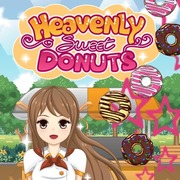 Heavenly Sweet Donuts
Serve delicious donuts in this cute time management game and try to complete as many days as possible! As the donut orders come in, start frying and decorating the doughnuts to serve to your customers.

Web Game Instructions
When you get an order, tap the donut dough to start deep-frying it. Wait for the donut to be done, careful not to burn the donut.