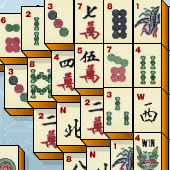 Mahjongg
Mahjongg is an online version of the classic Chinese
solitaire game
. Choose from five different tables, each with a different difficulty level from very easy to unbeatable. This game has nice graphics and features many different options for changing the color scheme of the tiles and background.
The object of the game is to remove all of the tiles by matching the symbols. If you get stuck, you can click on the hint button and the game will show you different tiles that can be removed. Can you complete the puzzle and match all of the
mahjong
tiles?
Web Game Instructions
To win the game, you need to remove all of the tiles from the table. You remove tiles by clicking on two free tiles of the same kind. A tile must have at least one side unblocked in order to be playable.
There are four tiles for each character. Flowers and seasons are different and have only one of each kind - therefore you can match any flower with any other flower (and any season with any season).