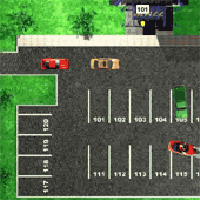 Park A Lot 2
You are the Valet Attendant in the sequel to the popular Park A Lot online game. Can you keep up with all of the cars, buses, and trucks that arrive? Park A Lot 2 is a demo online game includes 2 levels for free.
Web Game Instructions
See the in-game "Instructions" option for a lesson on how to play this web game.
Walk with the arrow keys.
Press the x key to start running.
Press the z key to stop running.
Press the space bar to get out of the car.
Park A Lot 2 Screenshots