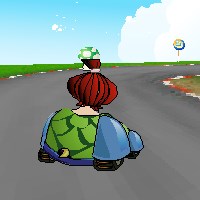 Crazy Turtle Racing
Crazy Turtle Racing is a quick 3D kart racing game. Race around the track in your turtle go-kart and try to beat all of the computer racers in this Mario Kart style game. Run over the green mushrooms for a speed boost but avoid the red mushrooms.

This is a very simple game with decent 3D graphics. The game play is lacking a little bit, but it is still a fun game to play a couple of times.

Web Game Instructions
Use your arrow keys to drive. Collect green mushrooms, avoid red mushrooms.