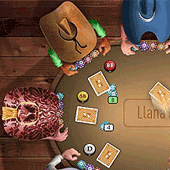 Governor of Poker
Your goal is to become the Governor of Poker in this free online game from Big Fish Games. Get your name in the local paper and earn earn the Governor of Poker title by challenging Old West Pros in Poker tournaments. You must know when to hold 'em and when to fold 'em as you work your way to take over Texas.

Governor of Poker features Texas-style Hold 'em Poker, tournament play, and distinct player styles.

Web Game Instructions
See in-game tutorial.

Governor of Poker Screenshots