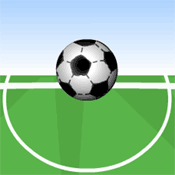 Keep Ups 2
Keep Ups 2 is a simple yet very addictive Soccer (Football) Game that will test your soccer skills. The aim of the game is simple, try and keep the soccer ball in the air as long as possible by clicking on it. The longer you keep the ball in the air, the higher your score is on this fun soccer web game.

Web Game Instructions
All you have to do is click on the soccer ball.

Keep Ups 2 Screenshots