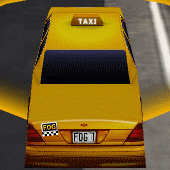 New York Taxi License 3D
New York Taxi License 3D driving game. If you loved the 2D version of this driving game then you really are in for a treat, with all new levels, graphics and game play. Earning your license, really never has been so fun. Can you complete all 18 levels, on icy roads, stopping at red lights, taking tourists around the sites. Even driving backward on an obstacle filled road? Well go and prove and it and show off the license you earn at the end of the game, which even features your FOG avatar picture.

Get ready for a taxi game where you not only have to get your clients to their destination fast, but you actually have to follow the traffic laws as well! You will have to deal with difficult driving conditions, annoying tourists, and even driving backwards. If you can complete all these challenges you will be master of the New York roads!