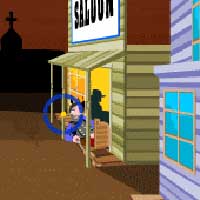 Wild Wild West
Wild Wild West is a simple, fast-paced Cowboy Shooting Game. Your mission is to shoot "Shorty" and his gang and protect the citizens of Susiville. This game is reminiscent of a shooting gallery that you would find in an arcade. As you progress, each level presents a different scene and different hiding places for the bad guys.

Web Game Instructions
Wild Wild West is played by shooting all of the bad guys that are hiding in the buildings and sometimes even pop out to shoot you. But make sure not to kill innocent American Indians or the pretty little ladies that stroll by. When you run out of bullets, drag them to your gun to continue shooting.

Wild Wild West Screenshots