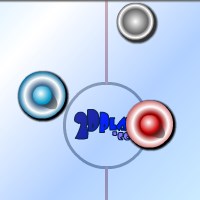 Air Hockey
Air Hockey is a flash game version of the classic arcade game. This game is a single-player game played against a computer player. Air Hockey features three different difficulty settings for the computer player and realistic physics.

Web Game Instructions
The first player to accumulate seven points wins the game. When the puck enters and drops inside a player's goal, the player's opponent receives one point. The player scored upon receives possession of the puck for the next serve. The puck may be struck with any part of the mallet.

Air Hockey Screenshots