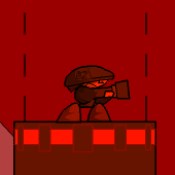 A.L.I.A.S 2
A.L.I.A.S. 2 is the action-packed sequel to the popular ALIAS web game. Help ALIAS (which stands for Artificial Life-form Intended for Assassination and Sabotage) escape the secret laboratory where he was created. This is a great side-scrolling web game that features multiple levels and numerous different enemies to destroy and bonus items to collect.

This is the second of three ALIAS online games. This sequel features new enemies, improved game-play, and many new levels to complete.

Web Game Instructions
Use W, A, S and D to move around and then when you need to aim and fire you can do so by using the mouse.

A.L.I.A.S 2 Screenshots